2011/06/23
KnobMan 1.49 is released
KnobMan 1.49
* BugFix: Layer visibilities cannot save/load normally.
* BugFix: With multi-style, visibilities are not normally managed by Layer add/delete.
* BugFix: Crash when inter-instance Copy&Paste
hmm...,
The multi-style feature is complecate than expected.
posted by g200kg : 7:25 AM : PermaLink
2011/06/22
SkinMan 0.999i is released.
0.999i 20110622
* BugFix: Pixel color accuracy improved especially using Gradation
* BugFix: UseTextureAlpha is not effective when Diffuse is not zero
* Added 'Smoother' parameter that make Gradation more smooth, applying splined curve
The Smoother may help to decrease the Mach Bands effects if you dont prefer that.


posted by g200kg : 10:06 PM : PermaLink
2011/06/21
KnobMan 1.48 is released.
2011/06/21 ver 1.48
* BugFix: The visibility not changes when adding/deleting layers.
* New parameter 'Shadow Type', selectable 'Spot' or 'Line'.
* Added a 'Line' type shadow sample 'LineShadow.knob'.
* KnobBrowser is updated. SkinMan's skin-file also be thumbnailed (for Vista or later).
* Added the KnobBrowser register/unregister button on the "File-Option" dialog.
The 'Line' type shadow makes the long shadow from the object.
This sample shows the shadow shape changing.
(This sample is APNG file, FireFox or Opera is needed for animation)


posted by g200kg : 6:28 PM : PermaLink
2011/06/18
SkinMan 0.999g is released.
0.999g 20110618
* BugFix: Primitives are not normally focused after paste (CTRL-C/CTRL-V)
* BugFix: Color value of the boundary pixel between PrimitiveBody&DropShadow is not correct
* BugFix: In some case, the position is not accurate (+-0.5pix) when primitive move by dragging
* BugFix: Menu item enable/disable control is wrong about 'Edit->Primitive->Extract Image'
* Support Texture rotation / scaleX,Y / OffsetX,Y
* Support Texture alpha to cut-out
* Add Textures 'Punching Metal' and 'Punching Slits'
* NOTE: from this version, SSE supported CPU is needed
Texture 'Punching Metal' & 'Punching Slits sample'.
may be fun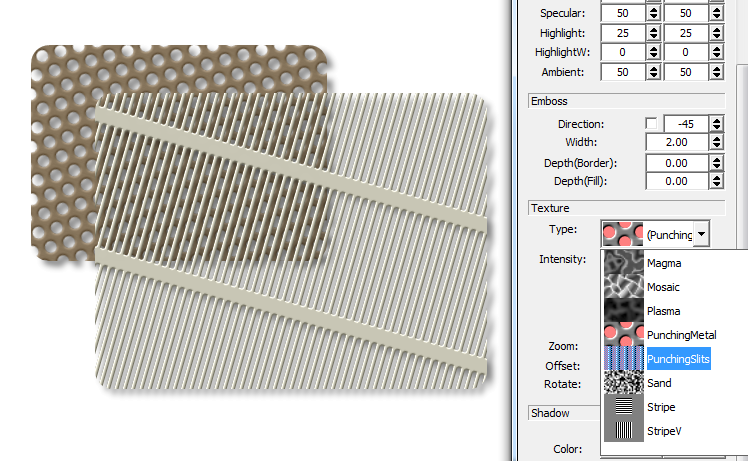 posted by g200kg : 3:09 PM : PermaLink
2011/06/16
SkinMan 0.999f is released.
0.999f 20110616
* BugFix: Window Z order control is not appropriate when 'ToolsAlwaysOnFront' is on
* Default .bmp file format is changed to 24bpp, 32bpp w/alpha bmp is also supported
* Export file format is now selected by the 'File Type' of the file export dialog
(in default, bmp=24bpp, png=w/alpha)
* Texture file's alpha is effective
* Texture name sort
the Tools window Z order problem is completely fixed in this version.
finally, I found it is caused by weird behavior of Windows about TOPMOST ToolTip.
WTF!
posted by g200kg : 2:50 AM : PermaLink
2011/06/12
SkinMan 0.999eis released.
0.999e 20110612
* BugFix: crash when some case of Undo/Redo
* BugFix: many bugs about TreeView manipulation (including crash when multi-select&drag)
* BugFix: Resize Keeping aspect (pressing Shift) is now work normal
* BugFix: in some case, FileOpenDialog may not come front when ToolsAlwaysOnFront is on.
* BugFix: Tab key enabled in Color window.
* TreeView dragging operation performance is improved (only for single item dragging)
* Texture file format is now support not only .bmp but .png .jpg .gif
* The texture is now placed adjusting the center of the object instead of TopLeft corner
* Added a texture file 'Circle.jpg'
* Added 'Extract Images/Knobs to File' function to Right Click menu.
* Added a sample file 'VeeMax.skin'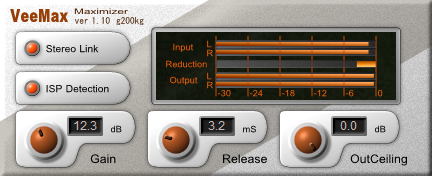 posted by g200kg : 11:47 PM : PermaLink
2011/06/07
KnobMan 1.47 is released.
Just a simple bug-fix:
* The visibility is not changed when the layer order is changed.
posted by g200kg : 6:41 AM : PermaLink
2011/06/05
KnobMan 1.46 is released.
New features:
* Syle setting is added: that will easily switch the Set of layer visibilities and output image-size. this feature will help to maintain the variation of knobs by one knob-file.
* Texture file format: not only bmp, also support the png jpg gif files.
* Texture file offset is revised. the center of texure-image is automatically ajusted to the primitive's center.
* Added the 'Specular width' parameter to the 'metal circle' primitive.
* BugFix: Texture for 'Metal Circle' has not right effect. light/dark is exchanged.
Texture file offset revise will help making the circular texture. the example is below...
(this texture is attached to the package as name "Circle" )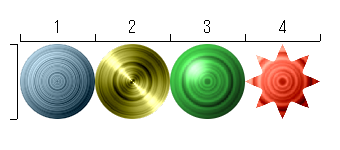 posted by g200kg : 2:15 AM : PermaLink
2011/06/03
Maximizer plugin VeeMax is updated to version 1.10
VeeMax 1.10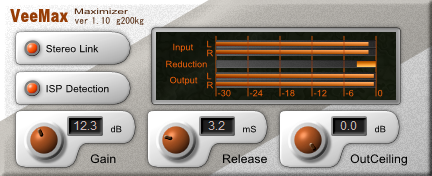 * 'Stereo Link' switch is added
* Improved GUI response (including the mouse wheel support)
* Ajusting the attack response.

posted by g200kg : 11:32 PM : PermaLink
---
g200kg