2011/07/18
SkinMan 0.999j is released.
0.999j 20110718
* BugFix: Not reflect to render when the primitive Size is changed by PropWindow value.
* BugFix: Primitive position may move unintendedly by Group/Ungroup
* Added 'Copy Primitive coodinate to clipboard' button

posted by g200kg : 8:34 PM : PermaLink
2011/07/10
KeroVee 1.52
* BugFix: Cannot work on SSE1 only supported CPU (AthlonXP).
* BugFix: The message is not displayed properly when the SSE is not available.
This version is just for Fixing the bug about old CPU.
If you can use KeroVee now, update is not needed.

posted by g200kg : 2:36 AM : PermaLink
2011/07/07
KeroVee is already updated to 1.51
* Sibilant noise processing/Pitch accuracy is improved.
* BugFix: the 'Calib' paremeter is not work normally.
* Scale setting menu is reflected the Scale buttons (still temporary work)
posted by g200kg : 12:18 AM : PermaLink
2011/07/01
KeroVee 1.50 is released.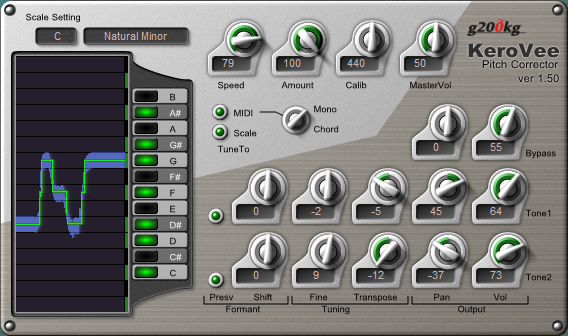 Many Things are changed...
* New GUI, with the Pitch Graph.
* More stable pitch and less artifacts by new PitchDetection/Shifting algo.
* Less CPU load.
* Added the Scale select button.
posted by g200kg : 3:53 AM : PermaLink
---
g200kg