2013/04/06
KeroVee 1.61
Pitch Corrector/Autotune Effect.
Overview
KeroVee is a PitchCorrection plugin that works as a VST effect. You need to use KeroVee.dll with your VST compatible host application.
KeroVee is focused to so-called 'Autotune effect' or 'T-Pain effect', that is robotic but different from the vocoder. KeroVee can mix two independent transposed outputs of pitch-corrector and bypassed output.
How to Install&Use
Just place KeroVee.dll to your plugins directry.
Insert KeroVee to audio track.
Route the MIDI signal to KeroVee if you want to use the 'TuneTo MIDI' function.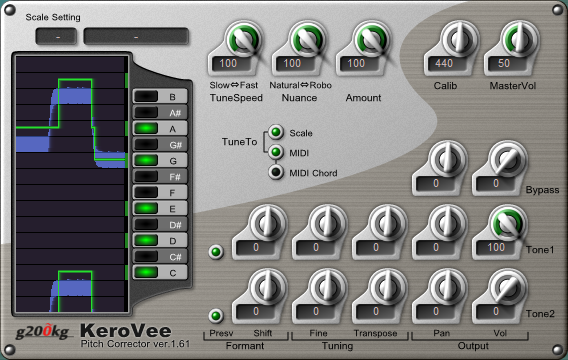 Download
KeroVee 1.61 Download (872 KB)2013/04/06
KeroVee 1.60 Download (872 KB)
2013/04/03
KeroVee 1.53 Download (846 KB)
2011/07/10
KeroVee 1.52 Download (846 KB)
2011/07/10
KeroVee 1.51 Download (846 KB)
2011/07/06
KeroVee 1.50 Download (846 KB)
2011/07/01
KeroVee 1.27 Download (604 KB)
2011/01/27
KeroVee 1.26 Download (604 KB)
2010/10/24
KeroVee 1.25 Download (595 KB)
2010/08/07
KeroVee 1.24 Download (595 KB)
2010/07/13
KeroVee 1.23 Download (451 KB)
2010/06/06
KeroVee 1.22 Download (659 KB)
2010/05/17
KeroVee 1.21 Download (659 KB)
2010/05/08
KeroVee 1.20 Download (659 KB)
2010/05/03
KeroVee 1.12 Download (634 KB)
2010/04/17
KeroVee 1.11 Download (634 KB)
2010/04/04
KeroVee 1.10 Download (634 KB)
2010/04/03
KeroVee 1.00 Download (643 KB)
2010/03/27
HowTo Use (KeroVee 1.24)
KeroVee 1.53
Params
Scale Buttons 'C'to'B'
Specify the 'Allowed' note.
Also the Scale-Setting menu is available that will set Scale buttons as a whole.
TuneSpeed
Tuning Speed. Maybe robotic if set to max.
Nuance
Keep or ignore subtle pitch changes like vibrato
...added in ver 1.60. same as earlier version if set to max.
Amount
Correction amount. Just to the correct pitch when set to max.
Calib
Master tuning 430Hz to 450Hz. the default is 440Hz
TuneTo

Scale -- Enable Tuning to specified scales by scale buttons

MIDI -- Enable Tuning to Midi notes.
MIDI notes are processed as monophonic.
Last MIDI note is effective.
Octave is NOT ignored.

MIDI Chord -- If this switch is on, multiple allowable notes can be specified by MIDI notes.
Octave is ignored.


- If both of Scale and MIDI is enabled, the MIDI note is prior. but scale tuning is effective after notes are offed.
- If not enabled both, the output pitch is follow to the input pitch, but be tweaked with transpose and formant parameters.

Bypass - Level - Pan
Bypassed output of source sounds.
Tone1 - Level - Pan - Transpose - Fine - Shift - Presv
Pitch-corrector output.


Level: output level
Pan: output pan (Note that the audio track must be stereo)
Transpose: transpose output pitch
Fine: fine tuning of the output pitch
Shift: formant shift
Presv: formant shift mode

On: formant is preserved. independent to the pitch correction. formant shift is still effective in this mode.
Off: formant is changed depend to output pitch.

Tone2 - Level - Pan - Transpose - Fine - Shift - Presv
One more Pitch-corrector output same as Tone1.
MasterVol
Master volume.
History
ver 1.61 2013/04/06
- Fix squealing when low freq noise input.
ver 1.60 2013/04/02
- Improved noise suppression
- Nuance parameter is added
- Optimized to SSE2. CPU consumption is improved.

ver 1.53 2011/08/08
BugFix: not reporting exact latency value to Host.
Reduced latency for live performance.
Improved GUI performance especially when opening GUI.
ver 1.52 2011/07/10
BugFix: Cannot work on SSE1 only supported CPU (AthlonXP).
BugFix: The message is not displayed properly when the SSE is not available.
ver 1.51 2011/07/06
Sibilant noise processing/Pitch accuracy is improved.
BugFix: the 'Calib' paremeter is not work normally.
Scale setting menu is reflected the Scale buttons (still temporary work)
ver 1.50 2011/07/01
New GUI, with the Pitch Graph.
More stable pitch and less artifacts by new PitchDetection/Shifting algo.
Less CPU load.
Added the Scale select button.

ver 1.27 2011/01/27
BugFix: In some HOST (especially Audacity), some noise is generated if invoke KeroVee twice or later.
ver 1.26 2010/10/24
SSE CPU check code is added. message will be displayed if cannot work.
Improved tolerability for input level-over.
Retune algo is improved, more natural correction.
'Chord mode' is added that will specify the multiple allowable note.
ver 1.25 2010/8/07
Input freq range expansion is not work normally, re-fixed. Now, the soprano voice is work normally.
ver 1.24 2010/7/13
Input freq range is expanded to soprano. Sound engine is a little improved. MIDI note handling logic is improved. Parameter step (ex. formant) become more granular.
ver 1.23 2010/6/06
Amount parameter added. Sound engine has been improved: noise reduced / retune curve become natural.
ver 1.22 2010/5/17
A little improved the sound quality (especially the pop noises).
ver 1.21 2010/5/08
BugFix:May be crush if you use a host without GUI.
BugFix:In some case, sounds stop during tweaking parameters.
Improve the sounds of pitch-shifting
ver 1.20 2010/5/03
Formant shift / preserv fucntion is added.
Transpose bug fixed.
ver 1.12 2010/4/17
Improved CPU consumption.
ver 1.11 2010/4/04
Master tuning bug fix.
'Fine' range fix to +-100cent.
pitch following speed improved.
ver 1.10 2010/4/02
Improved pitch-detecton accuracy.
Independent transpose&pan is added to two outputs.
ver 1.00 2010/3/27
First release.
Audio Demo (ver 1.23)
Original sound kerovee-1.mp3
Pitch Correction Demo kerovee-2.mp3
Pitch Correction with orginal+transpose mix kerovee-3.mp3
Demo Song: "30cm featuring KeroVee" 30cm.mp3
Demo Song: "30cm featuring KeroVee(formant preserved version)" 30cm-2.mp3
Formant tweak demo (Original)
Formant tweak demo (MaleToFemale)
Formant tweak demo (FemaleToMale)
Formant tweak demo (Mix)

VST is a trademark of Steinberg Media Technologies GmbH
---
g200kg