2010/05/17
KeroVee 1.22 is released
KeroVee 1.22
Just a little improved about sounding (especially pop-noises).
Here is a comparative table.
Version 1.12 1.12 or earlier. a little Chorused.
Version 1.20 Formant preserved mode. a little distorted?
Version 1.21 Sound improved. remaining a little popnoise.
Version 1.22 Latest version.

posted by g200kg : 7:58 AM : PermaLink
2010/05/09
KeroVee 1.21 is released.
KeroVee 1.21
* BugFix:May be crush if you use a host without GUI.
* BugFix:In some case, sounds stop during tweaking parameters.
* Improve the sounds of pitch-shifting.
posted by g200kg : 12:36 AM : PermaLink
2010/05/03
KeroVee 1.20 is released.
KeroVee 1.20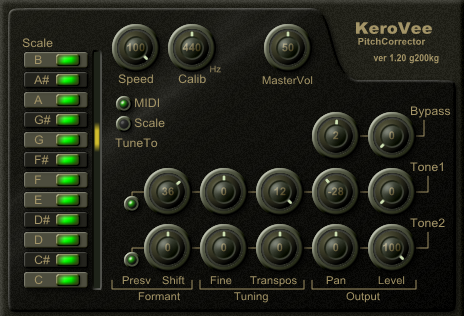 Formant Preserve/Shift parameters are added.

posted by g200kg : 2:33 AM : PermaLink
---
g200kg