2008/10/13
Vocovee1.05
VST Effect Vocoder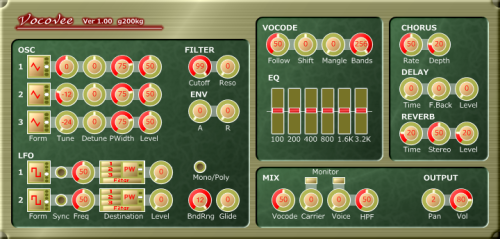 ---
VOCOVEE ---- VOCOV Effector Edition
Vocovee is the VST 'Effect' version of the VOCOV Vocoder. that has no 'Capture' sidechain plugin but can do low latency vocoding. I recommend Vocovee instead of the Vocov if you need real-time vocoding. In addition, Vocovee has a improved built-in synth.
* for SONAR USER
VOCOV seems unstable with SONAR because of 'Capture' sidechain mechanism. I recommend Vocovee instead of VOCOV.
| | | |
| --- | --- | --- |
| | VOCOV | VOCOVEE |
| Routing | Flexible, using Capture | Fixed. Insert as a effect |
| Modulator | .wav files or sent from 'Capture' | Inserted Audio track |
| Built-in Synth | 2OSC-1LFO | 3OSC-2LFO |
| Vocoding | Digital/Analog | Digital |
| Latency | hi | low |
DEMOS
vocoveedemo
---
What's new in 1.05
'Intensity' parameter added instead of 'Bands'. the 'Intensity' contols the amount of the formant reflection from modulator to carrier. 'Intensity' range 0-50 correspond to the range 0-100 of 'Bands'. the range 50-100 of 'Intensity' make sounds more close to voice.
---
How to Use
Vocovee is a VST 'Effect'. You need to insert Vocovee to AUDIO track as a Effect. and routing MIDI signal to Vocovee from MIDI track.
---
SONAR
In SONAR, Vocovee should be registerd as 'SYNTH' by plugin manager.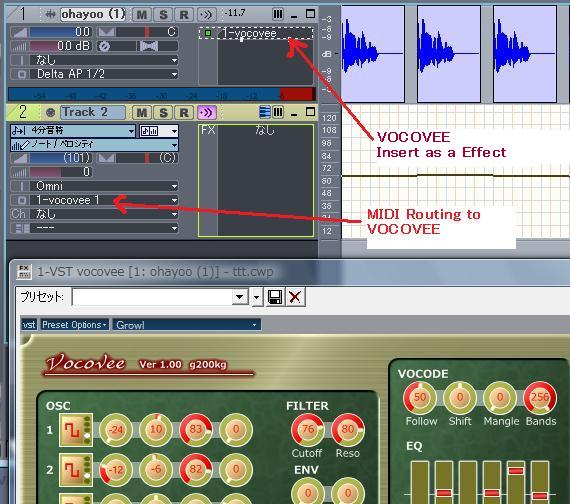 ---
CUBASE
NOTE that the Inserted audio track should be 'Stereo' if you need stereo Chorus/Reverb effects.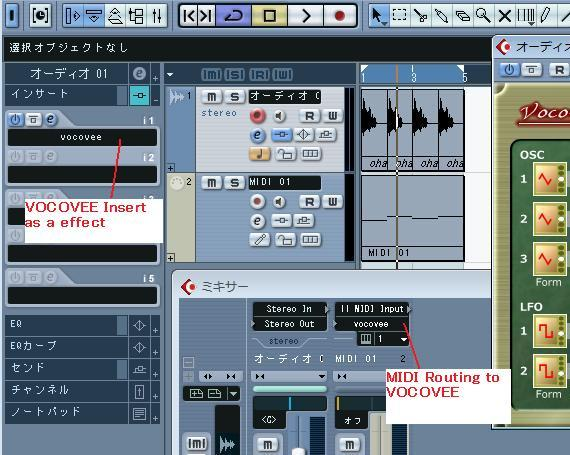 ---
Cantabile Lite
Cantabile can do Realtime vocoding. Load Vocovee and route audio signals to Vocovee.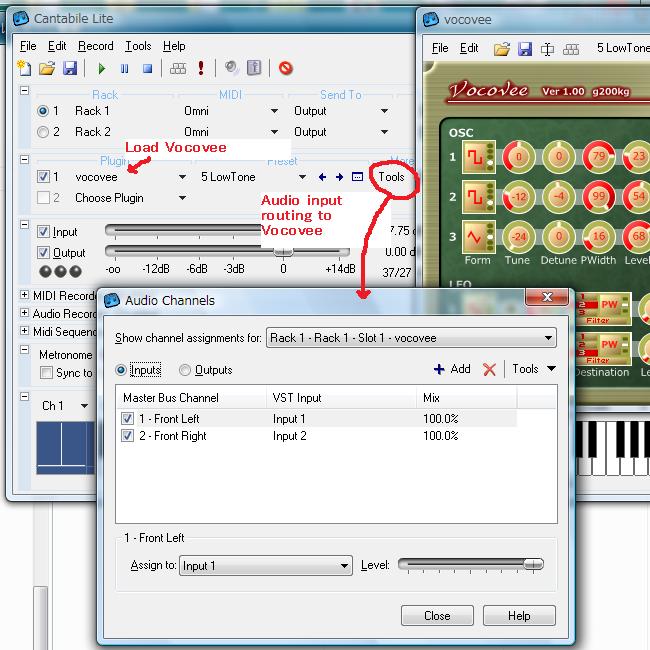 ---
Reaper
First, insert Vocovee to a audio track as 'FX'. Next, send MIDI signals to Vocovee.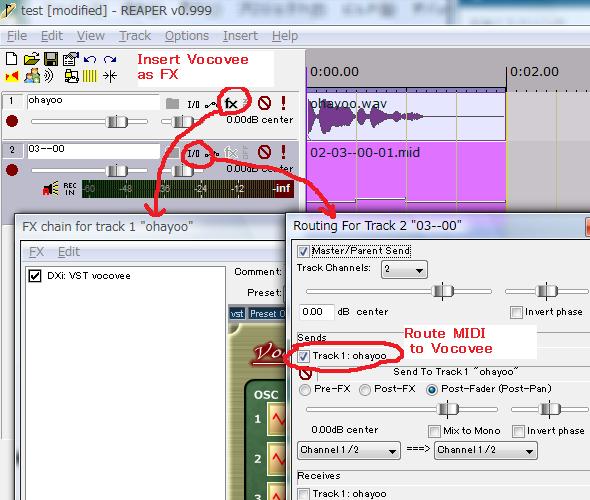 ---
Ableton Live
MIDI signals can be routed by INPUT/OUTPUT pane (Ctrl+Alt+'I').
---
Specification
BUILTIN SYNTH Section

OSC 1 - 3

Form: waveform selection
Tune: tuning -2oct to +2oct
Detune: detune -100cent to +100cent
PWidth: pulse width control NOT only for square wave. all wave forms will become intermittent waves by this parameter. it is very important for Vocoder carrier because the human's vocal cords makes a intermittent waves like this.
Level: OSC output level

LFO 1 - 2

Form: waveform selection
Sync: temp sync mode
Freq: LFO frequency
Destination: LFO modulation target On or Off OSC1,2,3 or Filter cutoff each. and FM/PWM/AM selectable for OSCs.
Level: modulation level

Mono/Poly: Mono mode if 'ON' otherwise Poly 8voice mode.
BendRng: bend range setting 0 to 1oct.
Glide: Portament time control

VOCODER Section

Follow: env-follower time of modulator audio. setting high will cause clear speech.
Shift: formant shift.
Mangle: mangle the formant. it will cause special effect.
Intensity: Tone color from Synthetic to Voicetic

EQ Section
Effect Section

Stereo Chorus
TempoSync Delay
Reverb

Mix Section

Vocoder / Carrier / Voice(modulator) with HPF Carrier and Voice monitor button force through the vocoding. It is useful for checking original signals.
History
1.05 20081013

'Intensity' parameter added instead of 'Bands'
Documentation attached

1.00 20080929

VST is a trademark of Steinberg Media Technologies GmbH
---
g200kg