2008/05/04
Vocov2.13
VSTi Vocoder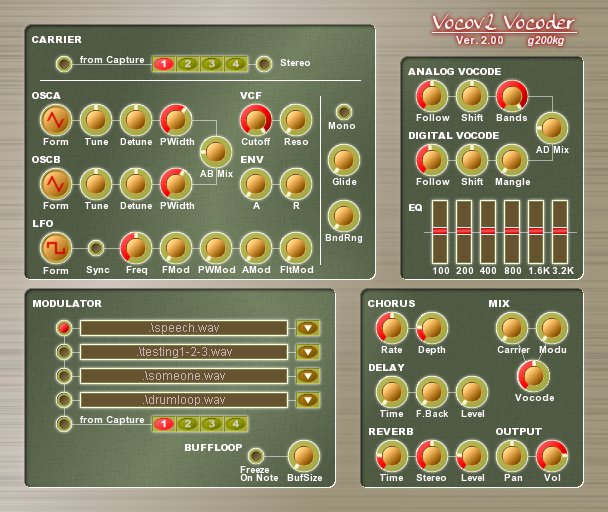 ---
NOTICE
New Vocoder plugin 'Vocovee' is already released.
especially if your host is 'SONAR', I recommend to use Vocovee instead.
---
Version 2.10 problem
If you install ver 1.x and 2.10, the VocovCapture.dll may conflict between ver1.x and ver 2.10 (even if you use different directory). In ver 2.11, the capture plugin has been revised to "Vocov2Capture.dll". it can coexsist with ver 1.x. please use ver 1.11 and 2.11 if you need old 1.x (from the link below).
------------------------
Major Version-up to 2.00
VOCOV2 is now Digital/Analog Hybrid Vocoder. It has two completely different vocoding engines and work simultaneously. FFT based Digital vocoder engine can create clear speech and FilterBanked Analog vocoder engine is more rough robotic sounds.
built-in synth is now has VCF and AR Envelope. envelope is not so important for vocoding but the carrier can be select as a output by output mixer.
in addition, reverb effect is added to effect section.
** Note: patch is not compatible with ver 1.xx
------------------------
Vocov2 is a VSTi Vocoder.
Internal 2OSC synth can be used for carrier.
upto 4 .wav files or an another audio track signal can be used for modulator by VOCOVCapture.dll ( used as a VST Effect) . VOCOV2 will automatically connect to VOCOVCapture.
***** SSE CPU needed *****
Vocov Ver 2.13 Download
Old Version:
Vocov Ver 1.11 Download

---
DEMOS
vocovdemo3
speech with preset switching
vocovdemo4
drumloop and some voices
vocovdemo5
carrier from A1. bufsize changing
mocovdemo6
wet/dry mixing (with perc=freqatic/bass=smallqoo/pad=notegraphica)
---
How to Use
1. Simple usage (if modulator source is not so long wav file)
Load "VOCOV2.dll" to your host app as a VSTi.
Load .wav file to VOCOV2 VSTi and select.
(wav file should be a LPCM/ 8 or 16 bits format)
You can control VOCOV2 as a synth via MIDI track.
2. Advanced usage (you can use a audio track as a modulator source)
Prepare audio track for modulator & midi track for carrier control.
Load "VOCOV2.dll" to your host app as a VSTi controlled by MIDI track.
Insert "VOCOVCapture.dll" to audio track.
Select VSTi's modulator source to "from VOCOV Capture".
VOCOVCapture.dll can be load upto 4 instance. you should select diffent channel
for each VOCOVCapture, and you can select which modulator use by select a CH on VOCOV.dll
3. More complicated usage (carrier from another VSTi)
You should prepare carrier VSTi and MIDI track.
Insert VOCOVCapture to the effect slot of the carrier VSTi
and select "Carrier from capture" on VOCOV2.
you can also select modulator signal from VOCOVCapture using another CH.
in this case, the MIDI track for VOCOV2 is functional only for Buffer freeze control.
Specification
CARRIER Section

fromCapture: use signal from VOCOVCapture as a carrier. shold select CH (1-4). according to VOCOVCapture setting.
StereoCarrier: will affect only if you use "fromCapturee" carrier. it will vocode as a stereo signals. this setting will use more CPU, recommended if not needed.
followings are built-in synth settings. will not affect if you use "fromCapture".
Mono: Mono/Poly setting of built-in synth.
Glide: Portament control of built-in synth.
BendRng: bend range setting.
ETC: might popular as a 2OSC 1LFO synth.

MODULATOR Section

Upto 4 .WAV File can be load
modulator from VOCOVCapture (upto 4 CHs selectable)
buffer freeze on note
buffer size select

VOCODER Section

Follow: env-follower time of modulator audio. setting high will cause clear speech.
Shift: formant shift.
Mangle: mangle the formant. it will cause special effect (for Digital).
Bands: freq resolution. setting high will cause clear speech (for Analog).

EQ Section
Effect Section

Stereo Chorus
TempoSync Delay
Reverb

Mix Section

Vocoder / Carrier / Modulator with HPF
History



3.13 20080504




BugFix: Noise on stereo carrier mode




2.12 20080503




BugFix: fix making big pulse (may cause hungup) in conjunction with some other plugins.




2.10 20080323




BugFix: now the capture work normally on some host(MusicStudio seriese)

HPF parameter added. can be used for modulator consonant mix directly




2.01 20080303




BugFix: Noise on multiple instance




2.00 20080301




Digital/Analog Hybrid vocoding engine

VCF/AR Env added to built-in synth

Reverb Effect




1.11 20070310




fixed capture CH lost on re-load




1.10 20070305




fixed preset-name lost when bank save

stereo carrier mode supported

wet/dry parameter added

mangle parameter added

separate control of detune osc1/osc2

modulator comp added




1.01 20070225




fixed the problem of the output disabled when song re-load

sustain pedal CC64 supported




1.00 20070223




VOCOVCapture connections have CH. multiple instance of the vocov capture support upto 4

carrier wave from capture supported

modulator buff freeze supported

bend range parameter supported




0.91 20070211




fixed the issue of modulator filename is not properly displayed




0.9 20070211




vocoding engine improved

format shift parameter added




0.8 20070207




vocoding engine improved

GraphicEQ added

internal carrier synth modified to 2OSC




0.6 20070203




GUI revised

some host crash issue is fixed




0.5 20070201



VST is a trademark of Steinberg Media Technologies GmbH
---
g200kg