2007/01/27
SmallQoo 1.02a
8voice poly Compact Synth

Fixed abornal parameter settings at first load.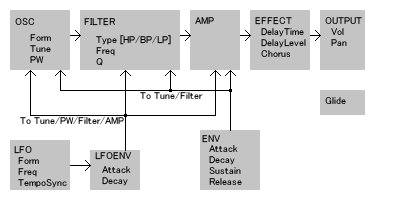 think how to use looking above blockdiagram. upper half, OSC=>FILTER=>AMP=>EFFECT line is simple. lower half, a LFO will modulate upper half parameters after shaped by AD only envelope. it will be used for delay vibrate by slow A, FM like attack by fast LFO, and so on...
cpu load is light, because of SSElized. and probably cause no cpu spikes. but need SSE compatible CPU Pen4 or Athlon64 or later.
8Voice Poly
Compact but friendly UI. with popup slider
AntiAliased OSC
AD Enveloped, Tempo Syncable LFO
Delay/Chorus Effect
Low CPU load (*** but Needed SSE CPU ***)
---
DEMOS
About MIDI CC# Setting
All Knobs can be controlled from MIDI CC. please refer Parameters section about default settings. If you want customize CC#s, once you need to invoke and quit the SmallQoo. then the file 'SmallQoo.ini' will be created in the directory of the SmallQoo.dll placed. you can edit this file by a text editor.
the SmallQoo.ini file is like follows.
[midicc]
vol=7
pan=10
.
.
.
Specification



8 voice polyphonic VSTi (for windows only)

1 AntiAliased OSC with flex PWM

1 HP/BP/LP Filter

1 ADSR Env

1 Tempo Syncable LFO with AD Env

Delay/Chorus Effect

Parameters the default MIDI CC#s are indicated in ().
OSC Section

Form(20): WaveForm Select [Rnd/Sin/Tri/Sqr/Saw]
Tune(21): [-24 to +24]
PulseWidth(22): Effective for all waveform except for [Rnd]

FILTER Section

Freq(23): Cutoff
Q(24): Resonance
Type(25): LPF/BPF/HPF Selection

ENV Section

A(26): Attack
D(27): Decay
S(28): Sustain
R(29): Release
MOD:Tune(30): ENV Moduration to OSC Tune
MOD:Filter(31): ENV Moduration to Filter Freq

LFO Section

Form(33): LFO Waveform [Rnd]/[Sin]/[Tri]/[Sqr]/[Ramp]/[Saw]
Freq(32): LFO Freq. if [Sync] pressed, the LFO is Tempo Synced
Sync(34): switch LFO to [Freerun]/[TempoSynced]
LFOENV:A(35): LFO Envelope Attack
LFOENV:D(36): LFO Envelope Decay
MOD:Tune(37): LFO to OSC Tune Moduration
MOD:PWM(38): LFO to OSC PW Moduration
MOD:Filter(39): LFO to Filter Freq Moduration
MOD:Amp(40): LFO to Amp Moduration

EFFECT Section

DELAY:Time(41): TempoSynced Delay Effect Time
DELAY:Lev(42): TempoSynced Delay Effect Level
Chorus(43): Chorus Effect Depth

OTHER Section

Glide(44): Portament
Vol(7): Master Volume
Pan(10): Master Pan
History



1.02 20070127




fix abnormal parms settings at first load

some presets added




1.01 20070116




Parameter range revised

Popup Slider Parameter display is improved

some presets added




1.00 2007015



VST is a trademark of Steinberg Media Technologies GmbH
---
g200kg