2005/02/09
ProtoPSG psg-005
8voice poly PSG like synth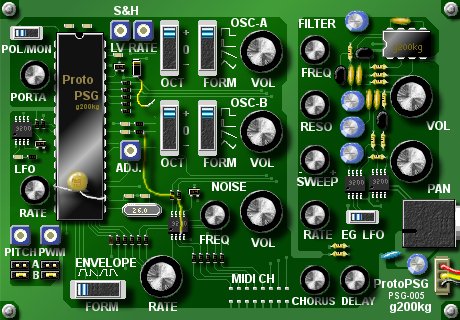 Because this GUI development took long time, it is still incomplete. Im sorry for naked PCB. About sound, because this is PSG chip, sounds like 'pe pooh'. But now, because the filter function is added, ProtoPSG can generate not only PSG like sound.
---
DEMOS
ProtoPSG 005 Demo
ProtoPSG 003 Demo
ProtoPSG 002 Demo
About MIDI CC# Setting
All Knobs can be controlled from MIDI CC. please refer Parameters section about default settings. If you want customize CC#s, once you need to invoke and quit the ProtoPSG. then the file 'ProtoPSG.ini' will be created in the directory of the ProtoPSG.dll placed. you can edit this file by a text editor.
the ProtoPSG.ini file like follows.
[midicc]
vol=7
pan=10
osc1vol=20
osc2vol=21
nosievol=23
.
.
.
Specification



8 voice polyphonic PSG like VSTi

2 OSCs and 1NoiseGenerator

1 Envelope Generator

Parameters the default MIDI CC#s are indicated in ().
OSC-A/B

FORM(24,25): WaveForm Select
OCT(28,29): Octave. -2 to +2
VOL(20,21): Volume
ADJ(31): detune between OSC-A and OSC-B
S&H LV(32): sample&hold modulation level
S&H RATE(33): sample&hold modulation speed

NOISE

FREQ(27): Noise Frequency
VOL(23): Noise Volume

ENVELOPE

FORM(40): Envelope Form selection
RATE(41): Envelope speed

FILTER

FREQ(74): Cutoff
RESO(71): Resonance
SWEEP(37): Cutoff modulation level (no modulation if center)
RATE(38): Cutoff modulation speed
EG LFO(39): Cutoff modulation mode EG=one shot, LFO=repeat

POL/MON(126): Mono Mode enable
PORTA(5): Portament
LFO

RATE(76): LFO speed
PITCH(77): LFO-Pitch modulation depth.

A(85): OSC-A modulation enable.
B(86): OSC-B modulation enable.

PWM(79): LFO-PWM modulation depth.

A(87): OSC-A modulation enable.
B(88): OSC-B modulation enable.

CHORUS(93): Chorus Depth
DELAY(91): Delay Depth
VOL(7): Master Volume
PAN(10): Pan
History



005 20050210




Mono mode and Portament control added

LFO and pitch/pwm modulation added

Some Preset added




004 20040918




Automation write from MIDI CC bug fixed

CPU usage has been greatly improved




003




Chorus & Delay Effect added

Support MIDI CC# for all knobs

some presets added




002




Filter

Saw Waveform

S&H modulation for OSC

revised Decay curve

20 preset sound





VST is a trademark of Steinberg Media Technologies GmbH
---
g200kg