2005/04/22
NoteGraphica 1.11
WaveDrawable Synth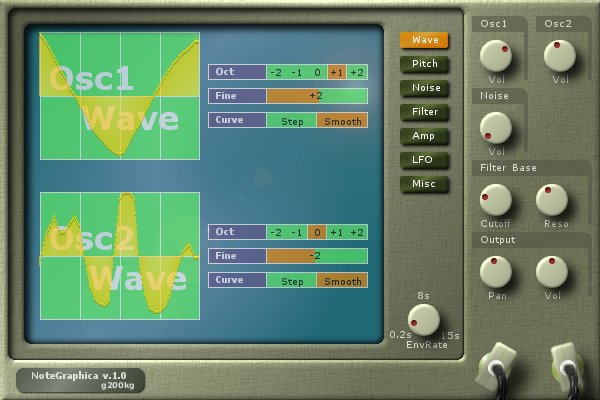 multi purpose synth. (not so specialize to joke)
2OSC+1Noise+8EG+1Filter+2LFO
Free drawable OSC/LFO/EG waveforms.
* SSE support CPU is needed *
(if you are using a AMD CPU, you may need to "Enable SSE" thru BIOS settings)
NoteGraphica v1.11 Download 1095KB

---
DEMO
NoteGraphica Demo Song 2
All non percussion sounds are generated by NoteGraphica
No other Effects plugins are used.
percussions are generated by Freqatic

---

Specificaions



WaveDrawable VSTi

8 voice polyphonic

2OSC + 1Noise Sound genarators

8 EGs

1 Filter

2 LFOs

Parameters

Main Panel



Osc1-Vol Osc1 volume

Osc2-Vol Osc2 volume

Noise-Vol Noise volume

FilterBase-Cutoff Filter cutoff base value

FilterBase-Reso Filter resonance base value

Output-Pan master pan

Output-Vol master volume

EnvRate EGs speed (common for all EGs)

the console leftside will be switched by [wave] - [misc] buttons



Wave Screen Osc1/Osc2 waveform/octave/tuning

Pitch Osc1/Osc2 pitch envelopes and LFO modulation

Noise Noise freq / volume envelopes and LFO modulation

Filter Filter cutoff/resonance envelopes and LFO modulation

Amp Osc1/Osc2 volume envelopes

LFO LFO1/LFO2 waveforms and rate

Misc Synth misc settings and Fx (Delay/Chorus)

You can draw directly the graph of OSCs/LFOs/ENVs.
if you need value 0 line (especially for PitchEnv), you can use Ctrl+Drag.
Each envelopes has a setting of "Curve", "EnvMode" and SustainPoint
Curve: the waveform is step or smooth
EnvMode: OneShot: non-stop envelope. Sustain: envelope will pause at Sustainpoint until trig is off. Loop: loop from start to sustain point.
SustainPoint: red arrow under the envelope. if the EnvMode is Sustain, it will be paused at here. or if the EnvMode is Loop, Envs are loop from start to here.
History



111 20050422




fixed release curve ignoring bug

stereo delay support




110 20050417




GUI problem fixed for some host.

improved HPF characteristic.

velocity ignoring bug is fixed.

improved AMP modulation.

some preset added.






100 20050404




Graph displays are improved. now the Step/Smooth settings are refrected.

CPU load reduced

Filter type selection added

Key On/Off glitch bug fixed

Added some presets.




091 20050328




Wave-Oct switch is not functioanl normally.




09 20050327




CPU spike bug fixed

some preset added

sustain mode envelope curve bug fixed

extended preset slots to 128




08 20050321



VST is a trademark of Steinberg Media Technologies GmbH
---
g200kg