2004/06/07
KusoSynth Version 0.5
A Tone-deaf poly synth for the Kuso-Music.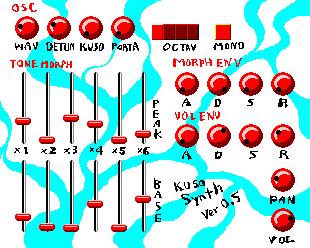 I developed this for evangelize the Kuso taste. First of all, this development is started as a simple 'Joke'. but now, it seems a little earnest about this one. even if the 'KUSO(tone-deaf)' parameter is still available.
KusoSynth Download 89KB
KusoSynth Demo (ver0.1: tone-deaf!!)
KusoSynth Demo2 (ver0.4: a little improved)
KusoSynth Demo3 (ver 0.5: all sounds are generated by KusoSynth, evoluted?)
Usage
Please use as a plug-in for VST Host program.
ver 0.5 Release note
ToneMorph harmonics envelope control is available.
Some Preset sounds are added.
ver 0.4 Release note
Envelope is now supported.
Osc De-tune parameter is added.
ver 0.3a Release note
Portament is now functional normally.
ver 0.3 Release note
Fixed the bug of note-off ignored from KB
Support bend/volume/pan from MIDI.
Specification
only for Windows.
KusoSynth now become a 8Voice Polyphonic.
OSC Section
WAV: wave form
DETUN: OSC De-tune
KUSO: tone-deaf
PORTA:Portament
OCTAV:Octave
MONO: Mono mode
Morph ENV Secton
A/D/S/R:ToneMorph Envelope generator. it will affect 'ToneMorph' harmonics.
ToneMorph Section
Hormonics setting from x1 to x6. upper row are peak value and lower row are base value. the harmonics will be gradually changed using 'Morph Envelope'.
VOL ENV Section
A: Attack time
D: Decay time
S: Sustain Level
R: Release time
---

VST is a trademark of Steinberg Media Technologies GmbH
---
g200kg