g200kg
> WAOrgan : Shepard's tone Organ (WebAudioAPI+WAAPISim)
2013/03/09
WAOrgan : Shepard's tone Organ (WebAudioAPI+WAAPISim)
« Prev
WAOrgan : Shepard's tone Organ (WebAudioAPI+WAAPISim)
Next »
---
|
WAOrgan : 無限音階オルガン
WAOrganはブラウザ上で動くフルポリフォニック無限音階オルガンアプリケーションです。
PCのブラウザでも動作しますが、特に「iPad / iPhone」で普通に弾けるようにチューニングしていますので、iPhone / iPad お持ちの方はぜひ試してみてください(iOS6以上が必要です)。iPad miniの横向きだと標準鍵盤くらいの感覚で弾けます。
下のURLにアクセスするだけです
WAOrgan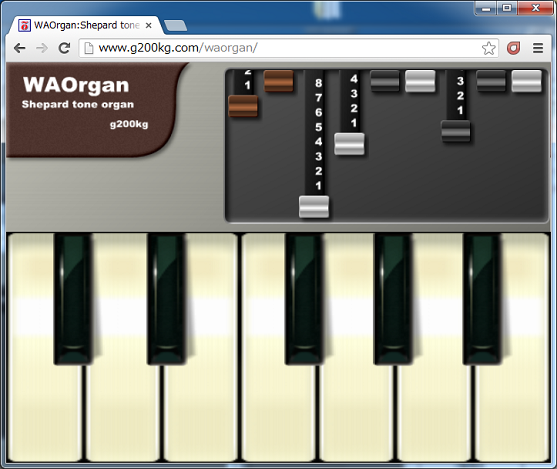 無限音階オルガンって?
鍵盤が1オクターブしかありませんが、一番上の「シ」と一番下の「ド」がなぜかちゃんと繋がって聞こえますので、1オクターブだけでどんな曲でも弾けます。2012年のアナログシンセサミットに出展されていた「Nanorgan」にインスパイアされています。
使い方
マウス、タッチパネル、PCのキーボードを使用して弾く事ができます。PCのキーボードの割り当ては下のようになっています。
また、鍵盤の上部には音色を決める9本の「ドローバー」があります。ドローバーを下に引き下げると対応する倍音が強くなります。
その他
Web Audio API を使用しています。また、WAAPISimを入れてありますので、Chrome/Safari/Firefox/Opera/MSIEで動作します。
マルチタッチに対応したフルポリフォニックです。
鍵盤のグラフィックスはAZ氏の作品を使用しています。keyboard_black.knob by az (c) 2012 KnobGallery http://bji.yukihotaru.com/
手持ちのAndroid端末でも試してみたのですが、WAAPISim経由になるためちょっとパフォーマンス的に無理があるようです。
WAOrgan : Shepard's tone Organ
WAOrgan is a 'Full polyphonic Shepard's tone Organ App on Browsers'. WAOrgan is functional on PC browsers, but especially tuned for iPad / iPhone.
Try with your iPad / iPhone (iOS 6 or later is required).
Just access to following URL.
WAOrgan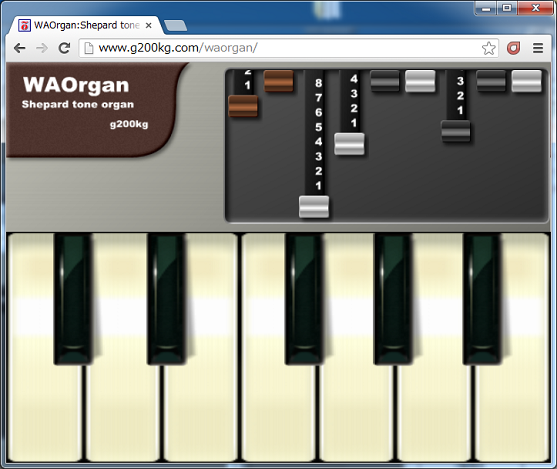 Shepard's tone Organ?
Just has 1 octave keys, but the highest 'B' and lowest 'C' are consecutive. This is inspired by the 'Nanorgan' presented in the Analog Synth Summit 2012.
Usage
Playable with Mouse, Touch or PC keyboard. PC keyboard is assigned as shown below.
Drawbards are also available, that set the harmonics.
Other Info
Web Audio APIs and the polyfill 'WAAPISim' is used. Functional on Chrome / Safari / Firefox / Opera / MSIE.
Full polyphonic supporting multi-touch.
The keys graphics are the works of AZ-san. keyboard_black.knob / keyboard_white.knob by az (c) 2012 KnobGallery http://bji.yukihotaru.com/
---
« Prev
WAOrgan : Shepard's tone Organ (WebAudioAPI+WAAPISim)
Next »
---
g200kg