2010/10/31
KnobMan 1.36 released
What's new in 1.36
* Color-window position saving
* Improved Color-window numeric value manupilation by keyboard
* BugFix: Sometimes crush in plugin 'SetLayout'

posted by g200kg : 2:03 AM : PermaLink
2010/10/30
* BugFix: Crush in some case, especially move a primitive by wheel after Undo.
* Improved hehavior of multiple selection on the Tree window.
Shift+Click => add to selection
Ctrl+Click => toggle selection

posted by g200kg : 2:55 PM : PermaLink
2010/10/24
KeroVee 1.26 has been released.
* SSE CPU check code is added. message will be displayed if cannot work.
* Improved tolerability for input level-over.
* Retune algo is improved, more natural correction.
* 'Chord mode' is added that will specify the multiple allowable note.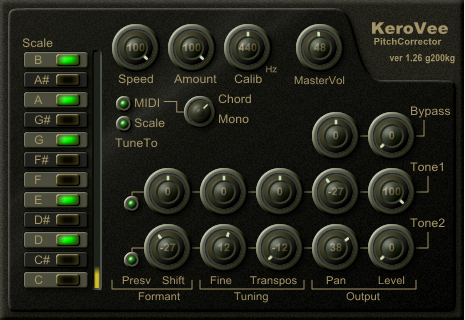 posted by g200kg : 10:40 PM : PermaLink
2010/10/18
KnobMan ver 1.35 is released.
What's new in 1.35
* Scrollable effect pane
* Accurate color mix at Primitive edge
* New color selector window
* Free draggable test mode
* Text primitive formula support (including log/log10/exp/pow/sqrt)
Preview Dragging will ease the confirmation how looks the knob on background.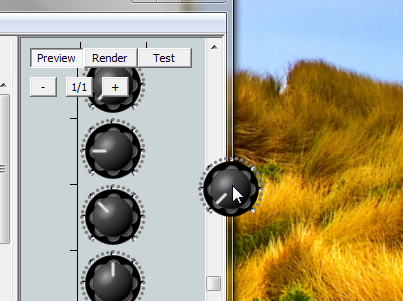 Text primitive formula, for example, (0:100:%.2f:10*pow(100,x/100)) will make exponential curve.


posted by g200kg : 12:47 AM : PermaLink
2010/10/09
posted by g200kg : 2:52 PM : PermaLink
---
g200kg